By Richard Trombly
I grew up in a rural area of USA and frequently walked or bicycled long distances. This usually entailed traversing along a narrow strip of crumbling pavement on the outside of the white line. Even clinging to this slender shoulder, cars would whiz past at high speeds and frightfully close without giving any extra accommodation, clearance or consideration to more vulnerable road users.
All too commonly, as vehicles sped past occupants would shout out, "Get off the road!" There is a segment of people in USA that drive aggressively and see pedestrians or bicyclists as mere annoyances to their automotive travel. Bicyclists would LOVE to get off the road, in any country, but there are few places where they can. Increasingly, there needs to be more safe infrastructure to support pedestrian and bicycling travel.
The USA has a very high amount of road deaths but a low percentage of pedestrian or bicyclist deaths related to overall road fatalities compared to other countries because so few people walk or ride there. For the same reason, there are few accommodations made for those not traveling by motorized transportation. The number of fatalities per bicyclist or walker are however alarmingly high.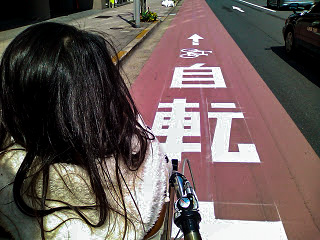 Japan has really very few actual bike paths so bikers must make a hybrid experience of biking with the flow of traffic and using sidewalks where they exist. Only the most crowded sidewalks in the busiest districts of cities are banned to bikes.
While European countries have many exclusive bike paths separated by barriers from cars or its own route and USA has increasingly added "rail trails" by converting former train tracks to paved bike paths, Japan has very few exclusive paths for cycling and pedestrians.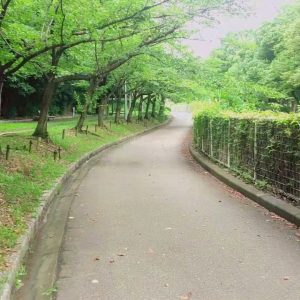 Luckily the drivers in Japan are for the most part safe and courteous and the rural roads have low traffic volume because the roads are narrow and sidewalks or bike routes are few. In fact there are only three approved national cycle routes in Japan according to government bicycle culture advocate Good Cycle Japan and these involve primarily road riding.
In many cities, there is little for bikes to do except to cruise the sidewalks. That is hardly an ideal solution because it brings bikers into close contact with pedestrians and is slow progress for cyclists and presents an obstacle course to maneuver. Admittedly, many central business districts do offer wide sidewalks with red lanes designed for bike travel.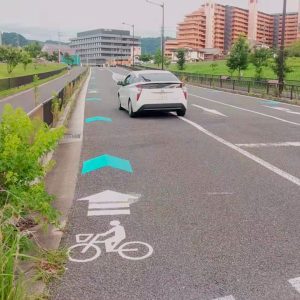 However, where there are "bike lanes," many are little more than a string of blue arrows near the shoulder of the traffic lane and the occasional image of a bike. This provides no actual protection for the bikes and frequently, cars park or travel in this space.
That is starting to change. Cities are adding more cycling accommodations like the meter-wide red trails along several major thoroughfares in Kyoto or similar blue lanes on several of Osaka's main roads. Another accommodation is a separated trail along elevated highways like the Osaka-Kyoto's route 1.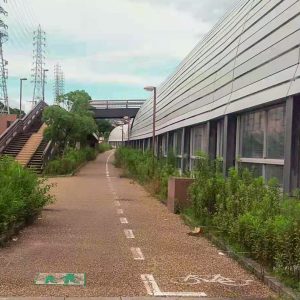 A more scenic way to safely walk or travel is the many riverside trails built on the flood control area near rivers, including the Yodogawa riverside trail that will take you from Osaka's Kita area to downtown Kyoto in off-road safety.
There are also many smaller pedestrian paths that parallel a narrow road, designed get pedestrians off the road or a strip of parkland between one-way travel lanes such as the path leading north from Tsurumi Park in the northeastern area of Osaka.
I was happy to see that Google recently expanded its mapping to include cycle routing. Since that addition, I have found many new stretches of pedestrian lanes that I had not explored and it has been routing me through neighborhoods where there are few cars and many delightful sights to explore.
Bike ownership in Japan has been steadily on the rise and as concerns about the environment increase, there will be more pedestrian and bicycle traffic. There is also increased interest in biking and walking from fitness as well as simple recreational strolls or rides. For tourism, safety and a more sustainable urban infrastructure, Japan needs to continue to develop these important features.
"Get off the road." In Kansai, it requires a little extra effort and planning, but more and more, we are able to get off the road. I hope the local government continues to fund and develop infrastructures for safe riding and pedestrians so that we can get off the road.