Children hold a special place on Mount Ikoma
By Richard Trombly
With additional reporting by Jude Jiang
While tourists seek out the hustle and bustle of Namba markets, the historic sites at Osaka Castle or day trips braving the crowds to see the deer in Nara, they overlook the natural and cultural wonders that exist in-between. From anywhere in Osaka, you can look eastward and see an inviting ridgeline centered on the 642-meter-tall Mount Ikoma which divides Nara and Osaka.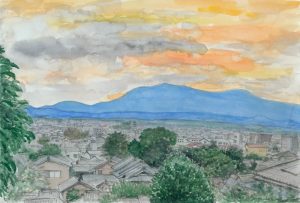 It is worthy simply as a nice day hike with the family or friends but it has added treasures. On top of Mount Ikoma, the summit holds the Ikoma Sanjo Amusement Park that was built in 1929. The park rides are really only for young kids, but since the park entry is free, it is a great place to stroll about and the park has had a recent face lift that did not destroy its historic charm. There is also a cat and dog petting zoo that claims to house various furry friends from around the world. Hours are seasonal so it is best to call ahead.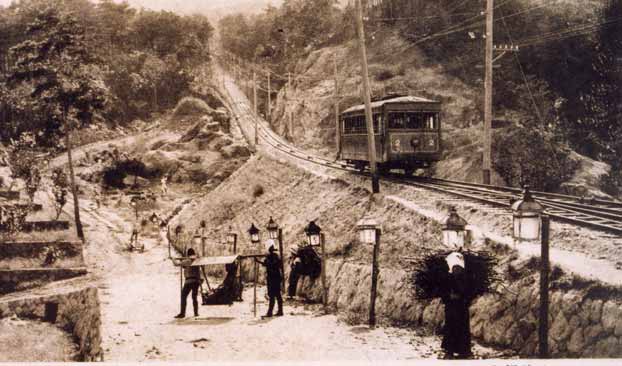 If climbing up those 600 meters does not sound fun, there is another bonus. Just a short walk from the Ikoma Station of the Chou-line metro and Kintetsu railway is a cable car to the summit and amusement park. The Kintetsu Ikoma Cable Car, opened in 1928, is the oldest commercial cable car line in Japan running from Toriimae station up the mountain to Ikoma Sanjo. Some of the cars retain a classic look while some have been tailored to look like a dog or cat for the younger park guests. Kids will often ask the conductor to make the animals "talk" so as the dog and cat cable cars cross each other the cat calls out "nyao nyao" and the dog responds "won won." After passing through the Ikoma hillside community and up to Hosan-ji, you must transfer to reach the top.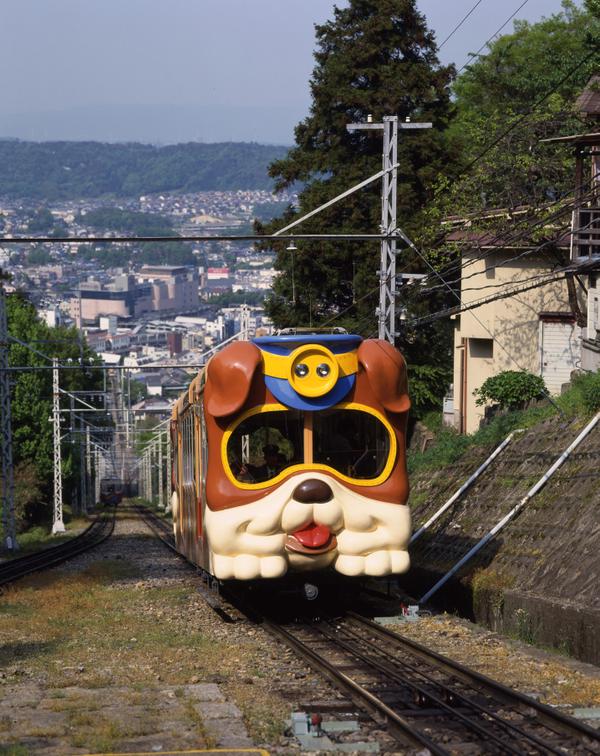 Long before the temple was built, Mt Ikoma was already venerated by the local people. It became a training site for Buddhist monks as early as 665. The temple, dating back to the Edo Period, is dedicated to Kangiten. This god is usually depicted as an elephant figure similar to the Hindu Ganesha, and is known for wisdom, joy and prosperity which made Kangiten popular amongst merchants and entertainers.
Small pilgrimages from Osaka or Nara brought worshipers here, so there developed a hillside village and a variety of shops, restaurants, entertainment venues and guesthouses along the slopes that have been serving religious pilgrims and visitors ever since. However, unlike some crowded tourist sites, the shops are low key and there are no tour buses discharging throngs of temple visitors. On most days you will only meet a few other climbers, many taking a rest over a cup of coffee or a meal.
Climbing through the community, the lanes are very narrow and steep and even become a staircase in places. There are some traditional buildings maintaining echoes of historical architecture and the view of the Osaka cityscape is impressive. Soon you rise above the last outpost of civilization alongside the Hozanji station of the cable car line.
Ascending to the temple, there is a broad stairway but there are also winding forest paths which lead to the temple grounds. There are some unique features here. While the dark wooden framed structures with white stucco walls and grey ceramic kawara-tiled roofs are of typical Japanese temple construction, the altar and prayer halls are constructed from brown wooden walls with bark roofs which are indicative of Shinto shrines. A seated Buddha commands an alcove in the cliff behind the main hall. There is an outlook over the valley as well.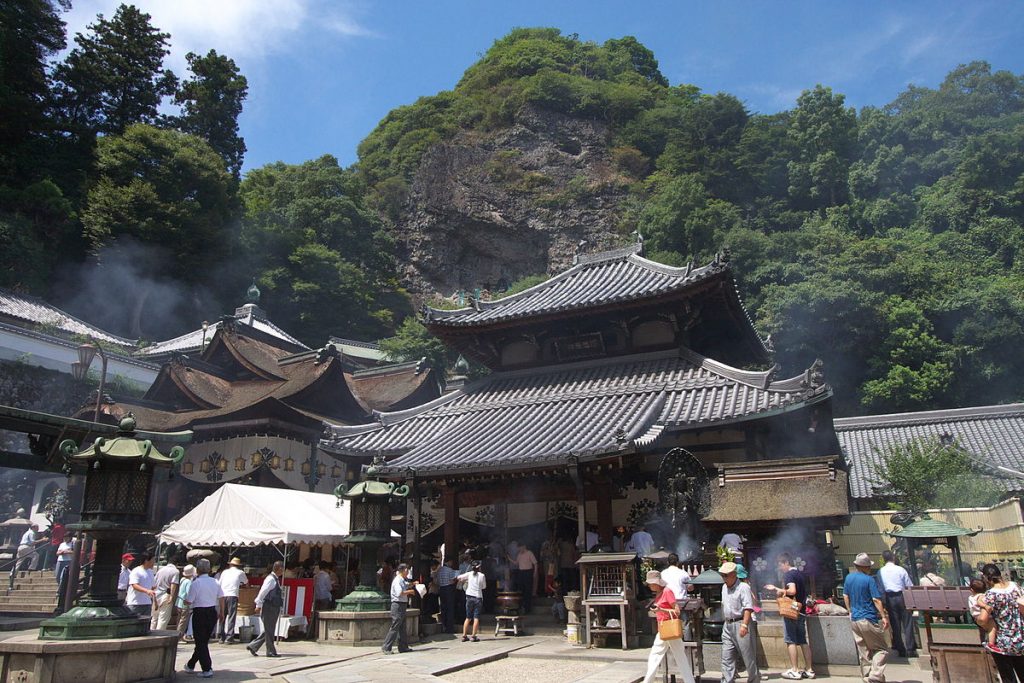 A trail rising up behind the main hall leads through the peaceful forests on its winding way up to the summit. It is a steep climb through thick groves of bamboo or tall cedars with the silence only broken by bird calls and the cheerful murmurs of mountain springs tumbling down the slopes.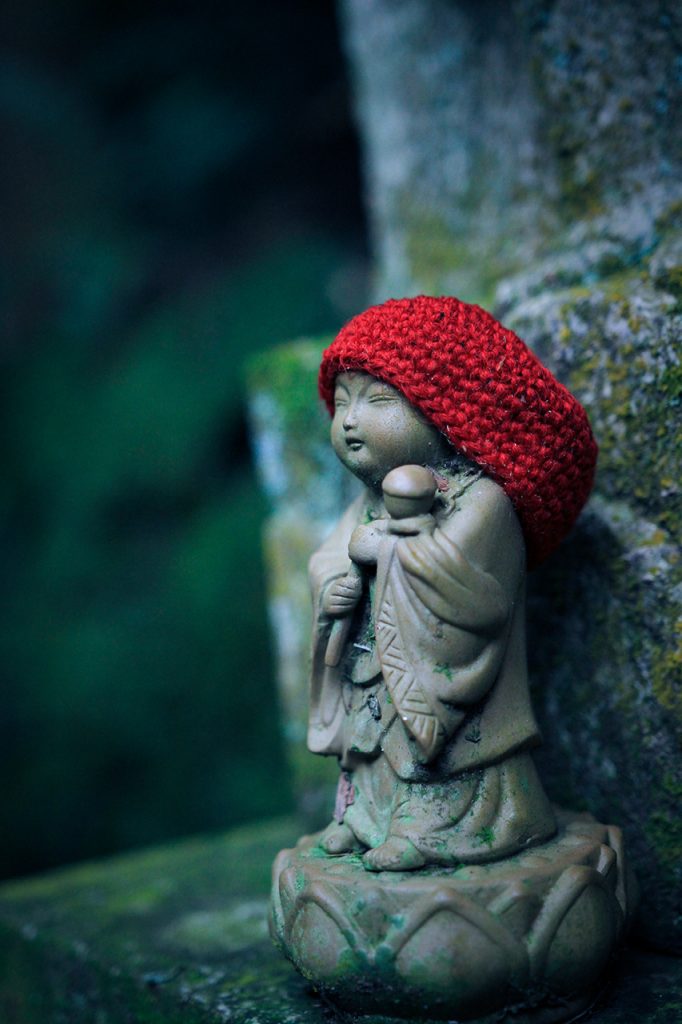 If you ascend the trail you will pass many smaller shrines and there are many statues of Jizo and other Buddhist figures. Jizo are usually stone-carved statues of a bodhisattva that is a spirit protecting known for travelers so they are often located at pilgrimage destinations and boundaries, both physical and spiritual. These figures are also often depicted with children or even holding an infant because they are seen as protectors of children, especially the spirits of those children who passed away young. You will see hats, gloves or bibs on many of the Jizo. Women make these clothes, often carefully knitted, as religious devotion however several of the Jizo here are wearing a sweater or hat, from a departed child, placed with care by grieving parents. There are offerings not only of fruits but also of children's' beloved toys.
On September 23 each year, the hillside and village is filled with worshipers, revelers and vendors celebrating the Ikoma Shoten Equinox Lantern Ceremony. A vast array of lanterns and candles adorn the mountain steps and paths lighting the autumn night in celebration.