By Richard Trombly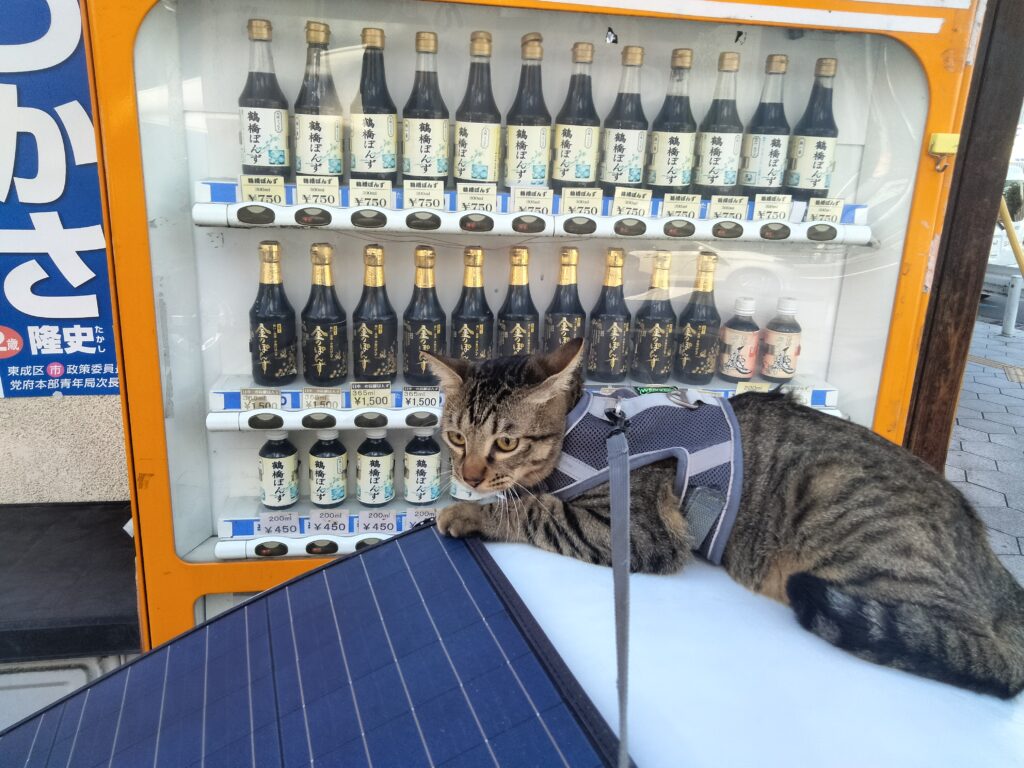 13 Feb 2023, Osaka – It happened again, for the countless time and it makes Kame-chan and me want to yowl. On a social media platform, a Japan "expert" told me that Japan is filled with (used) panty vending machines. I asked, as usual, the address of the machine they visited. Of course, what followed was admission that, no, they had not seen one in person nor even a picture of one and had not ever even been to Japan. It is true, at least one did exist in the dark side alleys of Tokyo's Akihabara, about 10 or 15 years ago, but the laws are too strict now.
Kame-chan wanted to set the record straight the last time we went out camping with his solar-powered, bike-driven RV. On the way to camping we cruised around Osaka looking for some of the more unusual vending machines. We saw umbrella vending machines in the business center of Umeda, manga-based toys dispensed in plastic bubble capsules by gumball machine-type vending machines called Gashapon (see photo caption) along the manga shops and maid cafes in trendy Namba area and cigarette and alcohol machines in the seedy Nishinari district's back streets. But no panties.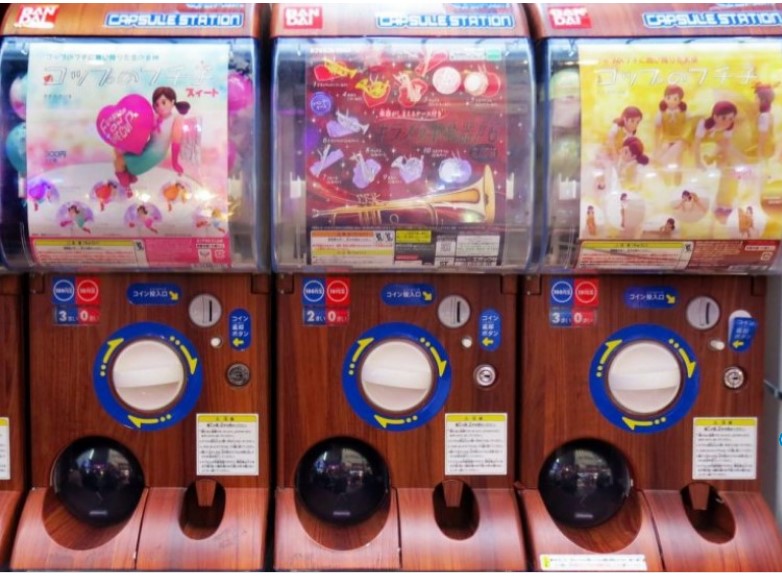 Watching me pedal the bike was making Kame-chan hungry so food vending machines caught his eye as we headed out of town towards his favorite campground. There are some surprising foods found in vending machines. Soda machines, featuring normal soda and ice teas as well as hot coffee and milk tea cans, are ubiquitous in Japan but there are some unusual items, too. Many of the soda machines carry hot soup cans.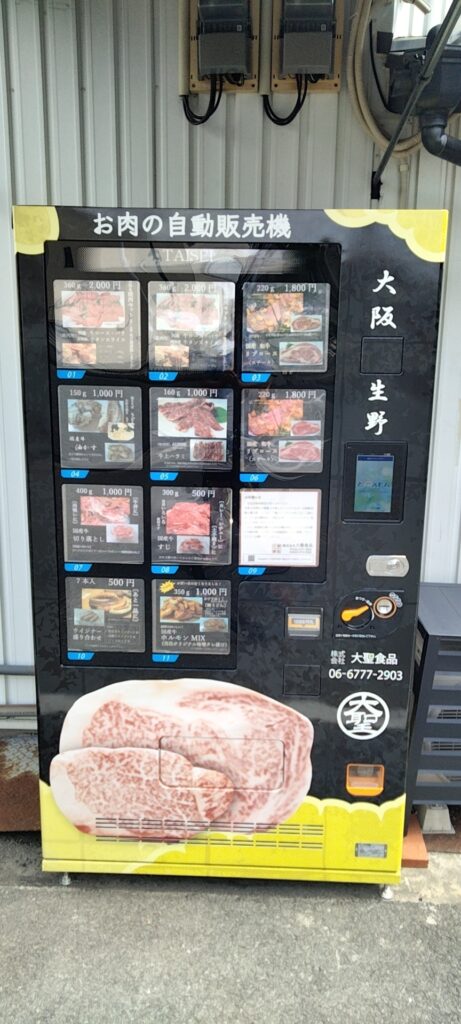 Need a midnight fix of Ramen soup? There are machines for that. If it is 2 A.M and your backyard BBQ is out of steak? Sure we have that too. If it is 5 A.M. and you awake with a craving for Chinese-style rice buns filled with meat and veggies? We got you covered. Kame-chan was tempted by the steak.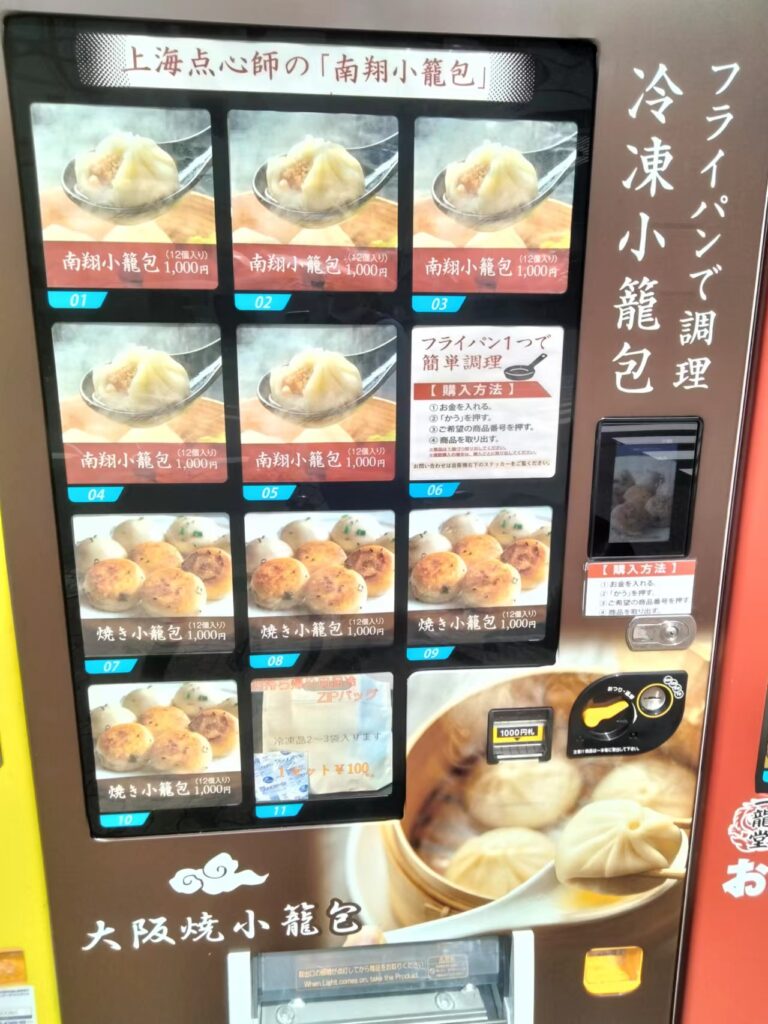 Perhaps the oddest thing we discovered on our quest was a Ponzu sauce vending machine. Ponzu is a thick vinegar-based sauce with the flavor of the citrus fruit Yuzu, reminscient of a small grapefruit. Tsuruhashi ward in Osaka is famous for its Yakiniku (BBQ steak) restaurants but had long held an iconic puffer fish restaurant. The restaurant is gone but its signature sauce lives on, perhaps only in this lone vending machine.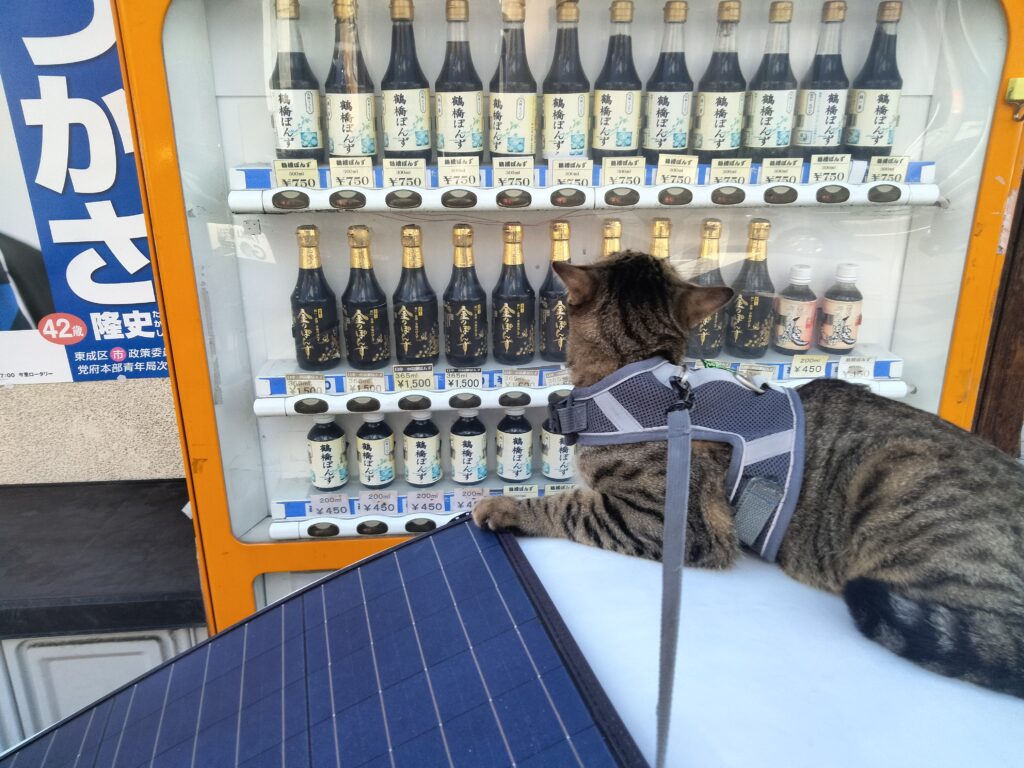 After checking the stock, which included a spicy variety which I favored and a premium version, Kame-chan chose a bottle of the plain ponzu sauce for 750 yen ($5.70) and we were off to them camping site. I did not have puffer fish, since I do not feel confident preparing such a potentially lethal cuisine, but I did bring steak for me and salmon parts for Kame-chan. I fired up my portable grill and used the Ponzu sauce as steak marinade sauce. Kame-chan had fish and I made some with and without the sauce.
The sauce was mild with those fruity citrus tones and I can see it would go better with fish. Kame-chan was not a fan. He thought the sauce was too salty and went for the plain fish without sauce.
There is no accounting for taste in cats and there are no used panty vending machines in Japan.