By Richard Trombly
Osaka, 13 October 2019 – I was strolling through Nishinari Ward near DoubutsenMae (the zoo area), my neighborhood in Osaka, tonight enjoying the autumn scent encroaching into the air mixed with the rich smells coming from the many small restaurants in the close-packed store fronts. Admittedly, this is the low budget end of town despite being just blocks from the tallest building in Japan and the brand malls and boutiques of the prosperous Tennoji area, it is home to a notorious area of prostitution and dubious karaoke bars where 100 yen (USD $1) gets you one song and a bar maiden to be your audience, as well as homeless elderly folks camped under the eaves of a warehouse across from the Shin Imamiya railway station. So amidst the din of mealtime conversation spilling from these restaurants and the alcohol-fueled warbling rising out of these KTV, I came across and incredible, yet very common, find. It was a concert hall of about 12 square meters with a jamming guitar playing acoustic solo and heart-felt lyrics being belted out in a rich voice, gravelly with too many cigarettes and lost hopes. The lyrics of "Life During Wartime" by The Talking Heads came to mind.
"This ain't no party, this ain't no disco,
This ain't no fooling around
This ain't no Mudd Club, or C. B. G. B.,
I ain't got time for that now."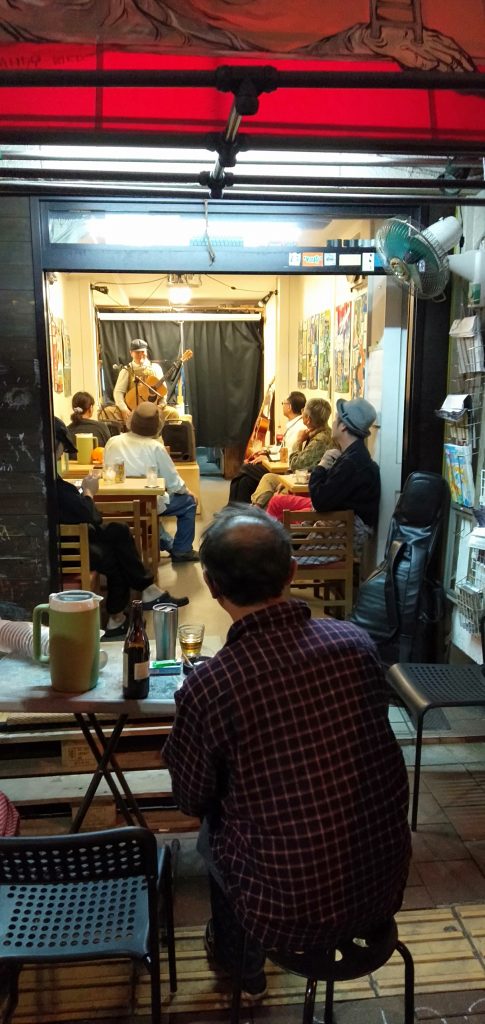 Osaka actually does have time for that, though, I thought. It really runs at a different pace than other places, especially compared to fast-paced Shanghai, where I have spend most of my past two decades, or Tokyo. As the second-largest city in the island nation, it is the very antithesis of the capital. There is very little outdoor advertising here because people here are hard to market to. They seem to have little use for status symbols of consumerism. And there is an underground culture and art movement here that is quiet yet pervasive.
A concert hall? Not really, but it is a music cafe called EARTH that barely functions as a business. It is a gathering point for the proprietor, Daichi Terakawa's friends, for music makers, and perhaps a dozen music lovers at a time. But that does not matter, because it is a place to perform. Here, art matters. It reminded me of that club CBGB in the Bowery, a rather impoverished area of New York City, or at least it was back in the day that bands like The Talking Heads,The Ramones, Patti Smith, The Police, and other bands got a chance to be heard in an ever-narrowing music industry.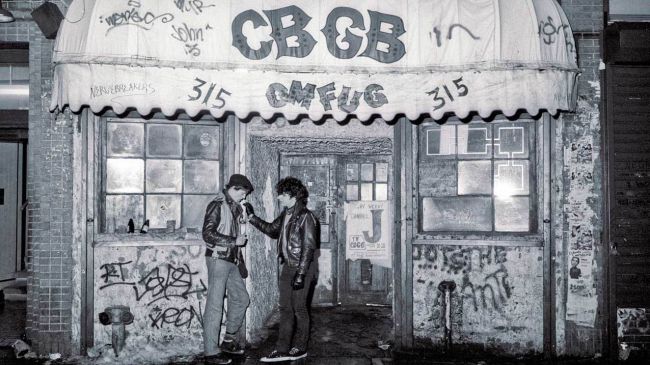 I am not saying that this bar is going to launch stars like Hilly Kristol did, but CBGB was created for performance, not for fame. This hole-in-the-wall is just that, a performance space. It is a place free of the studio-perfect meter and pitch and recorded perfection that destroys the very sense of the concert experience today, as most bands perform to a pre-canned music track and just do a stage performance, perfectly choreographed to death of any art.
It is so much more rewarding to see an earnest artist perform an imperfect and beautifully raw and flawed performance in a venue like this, or the famed Iron Horse performance space in the old stomping grounds of my youth in the western end of Massachusetts. The experience to see bands in a venue where you are one of less than 100 people packed into a venue is priceless. The performance there is genuine and the energy of the performers is powerful.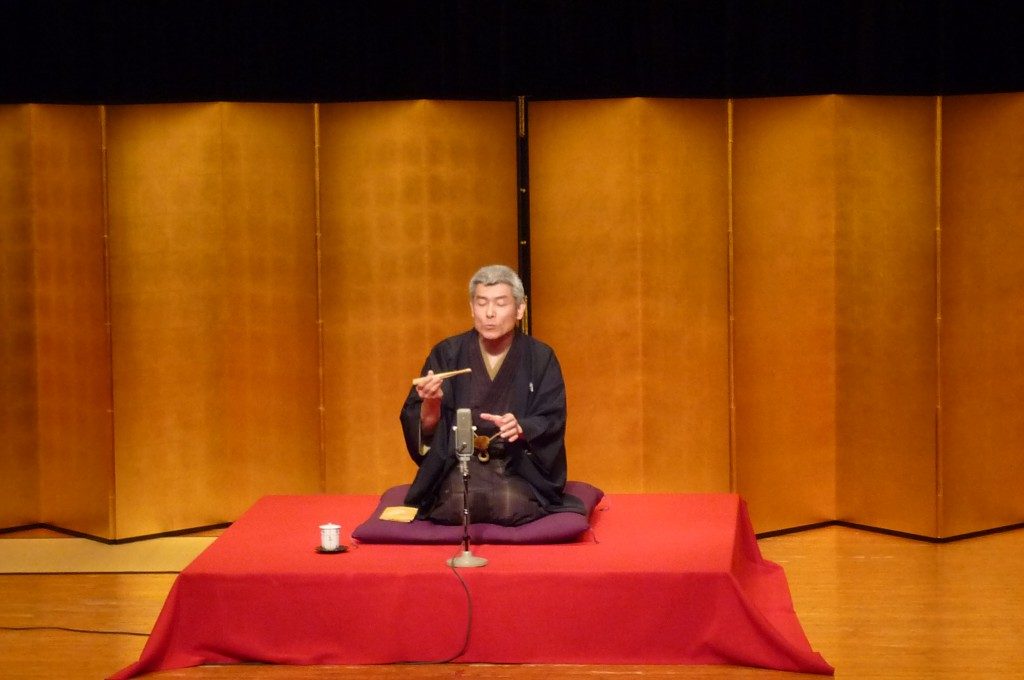 Osaka is rich with this sort of art sensibility. Currently the city ward is in the midst of the Shin Imamiya Festival featuring traditional folk drama in non-traditional venues, concerts on the street, and even Rakugo, (literally "fallen words"), but it means a "sit-down" comedian, performing folk comic routines dressed in traditional attire. Osaka just hosted a citywide vibrant month-long celebration of this art that pushes the edge with the Fringe Festival https://osakafringe.com/home-english/. Venues across the city and even parks held a wide variety or concerts, stage plays and performance art but the energy and feel of this underground art culture is there year-round.
Richard Trombly is a writer living in Osaka and Shanghai. Email Richard@trombly.com