By Richard Trombly
When one envisions Japan, a bullet train speeding between vast cities is one of the most iconic images. Amid the robust rail network traveled by long trains moving at breakneck speeds, Kansai's Hojo Railway operates at an entirely different pace.
With 13.6 km of rail and only 8 stations on its single line, it is a charming step into the past for tourists but also remains an essential lifeline between the towns of Kasai and Ono in rural Hyogo province.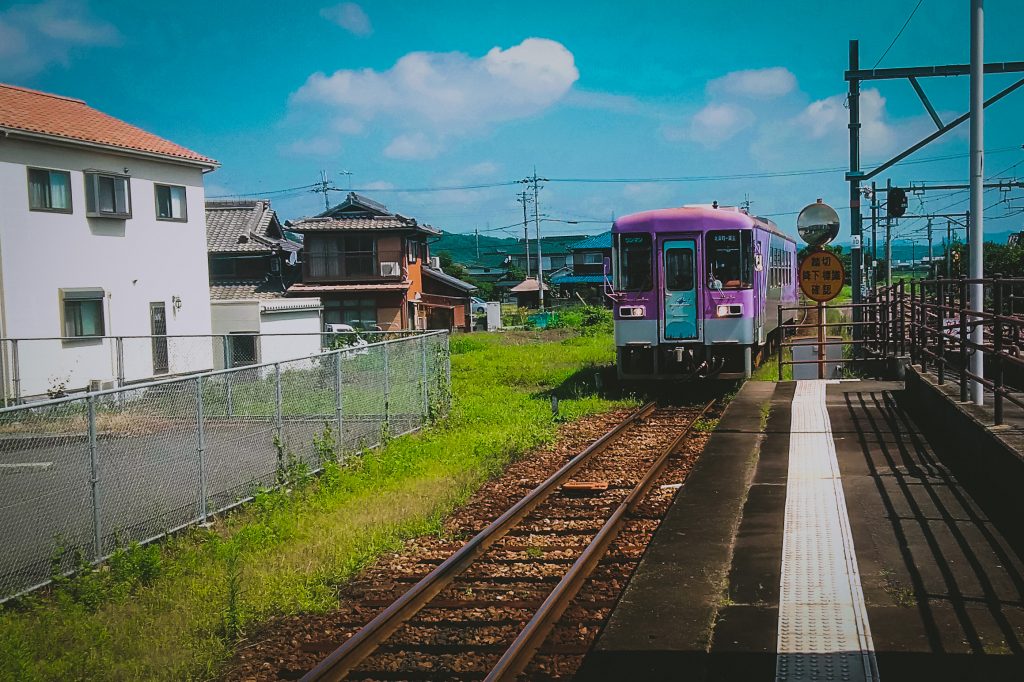 Flowers 1, 2 and 3
Railway lines crisscross Japan in a 30,625 km network with two-thirds of that belonging to JR, a group of companies that were formed with the privatization of the Japan National Railways in 1949. Most of the remaining rail lines serving the over 7 billion annual rides are with major regional rail lines.
Hojo Railway, opened in 1915, however, humbly operates its single line. Brightly-colored diesel-powered cars run on the antiquated 1.067 meter narrow-gauge rails, while most of Japan has adopted the standard-gauge 1.435 meter tracks. There trains, named "Flower-1, -2 and -3, are a single-unit commuter rail much like a subway train and even though it could pull additional rolling stock, there is only the single locomotive car with a capacity of 55 seats and about the same number of standing passengers.
Ono is a small but prosperous industrial city famed for exceptional quality "banshu" scissors, knives and razor-sharp scythes as well as abacus makers. It attracts many from Kobe for a day trip or weekend out of the city to enjoy a hike on the Monogatari range, rocky hills under 200 meters known as the "Ono Alps" and to enjoy the natural hot springs. It lies inland and west of Kobe along the route to Tamba-Sassayama and the northern coast.
Touching The Third Rail
If you board the Hojo Railway at that Ao station terminal in Ono, you will find that the station is a JR station and the ticket machine does not offer Hojomachi or Kasai as a destination. If you ask the JR station master he will point to one turn-style that is open and will tell you to go to track 3. There are only signs for track 1 or 2 and no other platform is visible but the station master indicates to head towards track 2 by a pedestrian bridge. The third rail finally becomes visible, an overgrown narrow-gauge track veering off from the JR rail lines which connect Ono to the cities Kobe and Himeji in one direction and the villages of Kato and Tamba in the other.
A Link to the Past
Except for spring cherry blossom or autumn leaf viewing season, one might not expect this train to carry many passengers but it is a link to bring day hikers from Kobe to the historic World War II remains of Uzurano Airbase and the brisk climb up to the vistas of Furubokke Nature Park. It is also an essential lifeline for Kasai residents to get anywhere by public transportation via transfer at Ao.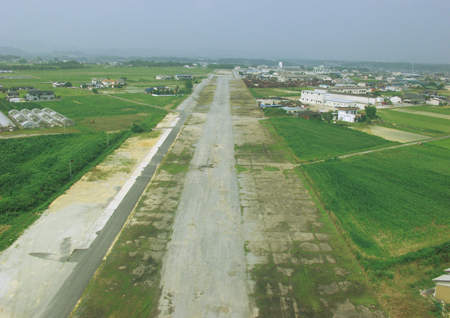 While an array of vacationing families and day-tripping elderly in full hiking gear queue up to board the train at Ao, locals arriving from Kasai and the farm villages along the way disembark to do business or, luggage in tow, head to the JR platform for parts unknown.
Find Your Own Pace
Though the Shinkansen trains speed along at over 300 km/hr, the Flower locomotives make the trip to from end-to-end in a leisurely 22 minutes. It is a chance to leave the city behind and truly find a countryside experience just an hour away from Kobe.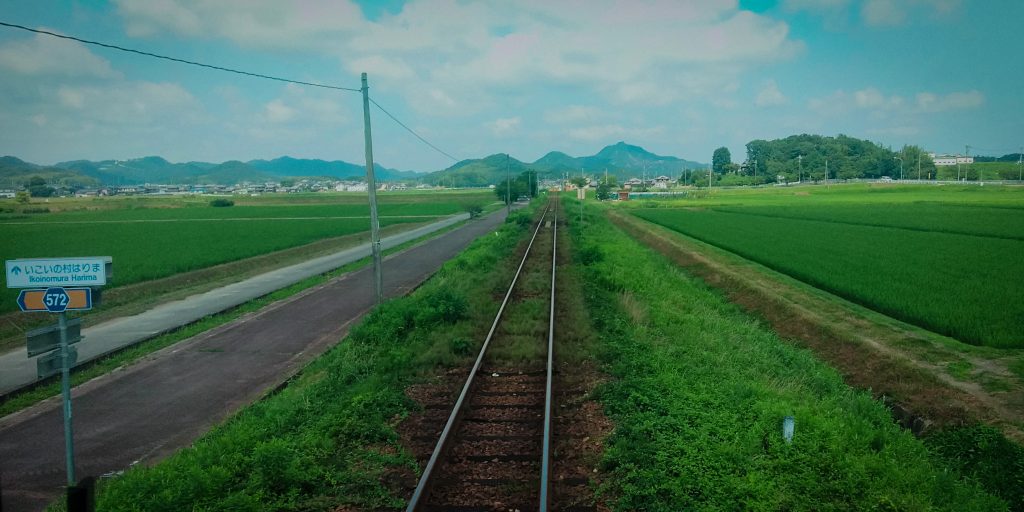 As the train pulls out of Ao Station it almost immediately plunges into a tunnel of forest encroaching on the overgrown tracks, leaving the cityscape of Ono behind. When the train emerges, it feels like being magically transported into a distant countryside. The train traverses a carpet of green farmlands and quaint farmhouses to service the historic stations on its way to Kasai.
Plan to have plenty of coins since transit cards like the ICOCA are not accepted and there is only a station master staffing the Hojomachi station terminal in Kasai. You pay as you exit, so if you are getting off it is hard for the conductor to make change. Full fare is 420 yen and half fare for children. The fare table can be found at the Hojo Railway website. The midway stations are also not staffed but some of these quaint old stations are historic landmarks and may have a concessions booth within.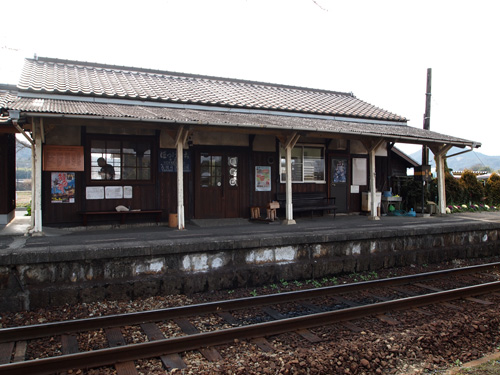 If you take the train all the way from Ono to Kasai, there are rental bikes to peddle around to some of the local sites (see map). Attractions in Kasai include a charming old street with some well-preserved historical homes and businesses, Maruyama Total Park offers a hilltop vantage of the city and there is the Tamaoka Historical Park where visitors can explore ancient burial mounds. Folding bikes are also allowed on the train so you can ride to explore sites along the railway and then hop aboard when you want to return.